Introducing the Pro Touch Control Module
Welcome to your Connected Home
We know that your home is as unique as you are. That's why we offer the ultimate professional security system — to create a home where you and your family can enjoy life together, whatever your needs. Whether you're looking for a system to protect against intruders, alert you to potential hazards or just welcome you home after a long day, ProSeries brings security, safety and comfort together in a hassle-free package that's easy to control and grows over time alongside your family. So you can relax and enjoy life — feeling protected by a network of security experts in a home that's as safe as it is comfortable.
The PRO TOUCH is a wireless graphic 7" touchscreen alarm keypad that combines a sleek and elegant design with a brilliant high-resolution display that allows the user to perform security and automation functions. Designed for professional installation, this highly scalable All-in-One Security Panel brings 24/7 professional monitoring to verify alarms and alert appropriate first-responders if necessary.
The Pro Touch offers flexible, professionally installed security tailored specifically for your home and family. It alerts you to movement and potential intruders, allowing you to verify these by video – so no more false alarms from mischievous pets! What's more, 24/7 professional monitoring can verify alarms and alert appropriate first-responders if necessary. Put simply, it helps you keep your home safe and secure, wherever you are.
The ProSeries All-in-One Security Panel supports a wide selection of sensors and devices using SiX™ two-way, wireless technology with highly secure AES-128 encryption. Put simply, no matter how big or small your world, the ProSeries platform helps you keep it safe and secure, wherever you are.
Product Features:
128-bit AES Encryption (PROSIX-Series)
Easy-to-use, Multi-lingual display (English, French, Spanish)
Voice capable: Amazon Alexa, 2-way voice, status annunciations, chimes
Control lights, lock, thermostats and other home automation devices from the display
Sounder with audible beeps to indicate: system status, entry/exit delay, other alarms
Panic buttons dedicated to fire, police or medical emergencies
Napco iSecure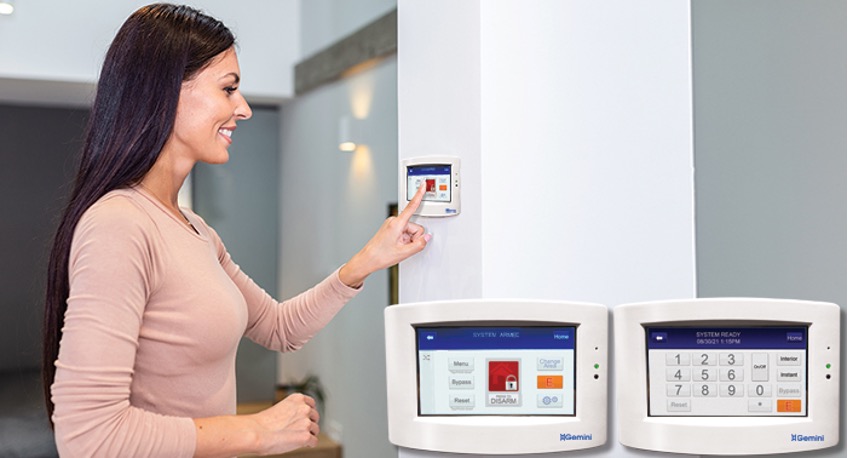 Compact 4.3" resistance touchscreen, color decor-friendly, security functions, hardwired.
Intuitive central one-button arming, status icons &/or more traditional keypad view - Remote Control with Gemini App.
VIntegral custom alphanumeric dual-line display by area with time & date.
Multi-level sounder and screen brightness levels.
Built-in 4-Zone EZM Expander
Easy Retrofit for All Gemini Alphanumeric Keypads (GEMRP1CAe2; GEMK1CA), no reprogramming required. Cosmetic backplate wall-cover, included.
Easy to configure keypad & EZM expander plus add users, right on touchscreen. (Note: GEM-TOUCH Cannot be used for Panel Programming.)